King Electric
Recording Co.
A custom-built, analog-equipped studio.
Home to producer & engineer Justin Douglas.
King Electric Recording Co.
A custom-built, analog-equipped studio. Home to producer & engineer Justin Douglas.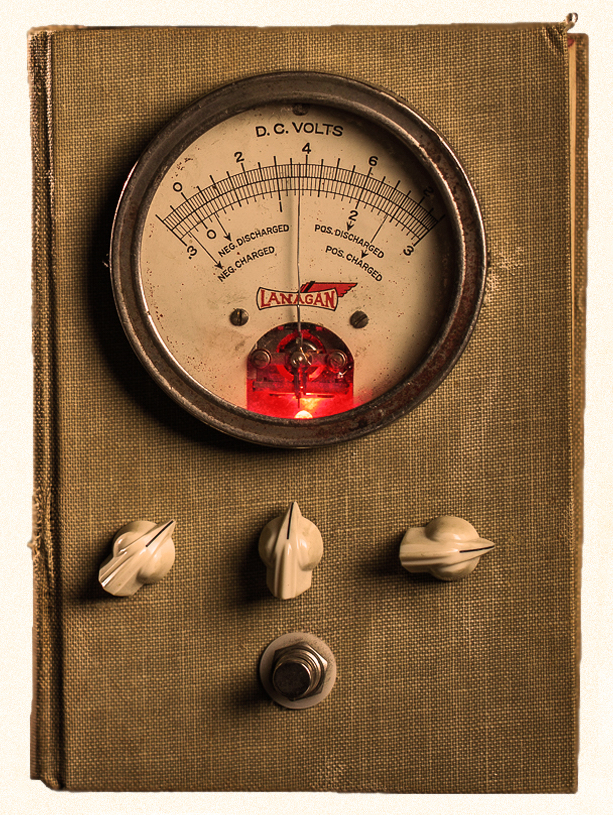 Bio
King Electric Recording is a custom designed recording studio in Austin, Texas. We feature a large tracking room with curved wooden walls and dozens of vintage and unique instruments, including a 1930s Baldwin baby grand piano. For recording, mixing, and mastering, we offer an acoustically designed control room; a vintage 24-channel Neve console; a 2" 24 track tape machine; a complete and updated Pro Tools rig; and an extensive collection of outboard gear and microphones, including modern and vintage Neumann vocal mics.
The studio is home to award-winning engineer and producer Justin Douglas, a Berklee graduate with 15 years of experience working on hundreds of recordings spanning multi-platinum and Grammy-winning albums, feature films, and small-batch limited pressings.
King Electric Recording studio was designed from the ground up in Austin to be an ideal environment both acoustically and creatively and is also available to experienced freelance engineers at a deeply discounted rate. We make unparalleled recordings and do so in a stress-free environment. We invite you to come by, have a coffee, and check us out any time.
Keep scrolling for more info about the studio, or contact us using the form at the bottom of the page.
Console
Neve V51 24 channel vintage console with EQ, filters, and compression on every channel
Recorders
3M M79 24 track 2″ analog tape recorder
Otari MTR 90 II 24 channel 2″ tape recorder
Scully 280 ¼" 2 track mixdown deck
Pro Tools (latest version) with a bazillion plugins running on a 12 core Mac Pro
SPL Madison (2 – 32 channels A/D and D/A)
RME HDSPe MADI fx
Monitoring
Adam Audio S3H
Amphion two15 with modified AdCom amplifier
Yamaha NS-10MC
Pyramids
Shadow Hills Oculus monitor controller
Lavry DA10
Sennheiser HD-650
Grado 80e
Furman Headphone Matrix
Beyerdynamic DT770-PRO (4)
Additional Tracking Headphones (6)
Microphones
Neumann U-47 FET (vintage)
Neumann USM-69i stereo microphone
Telefunken U-47 / 251 hybrid (custom)
Nuemann KM184
Peluso P12 (C12 multi-pattern tube)
Royer 121
Mercenary Audio MFG KM-69 Matched Pair
Blue Baby Bottle (2)
Blue Blueberry
Telefunken MD-421 (vintage)
AKG 414
AKG D112 (2)
Aston Spirit
Avenson STO-2 (pair)
Beyerdynamics M88 TG
Beyerdynamics M201
Cascade X-15 stereo ribbon
Cascade Fat Head II
Cascade Vin-Jet ribbon (2)
Oktava MK-012 (x3)
MK 102 LDC Capsules (x2)
Red R12 Capsule
Shure Beta 52 (2)
Shure SM57 (6)
Shure SM7b (2)
Shure SM81 (2)
Sennheiser MD-441
Sennheiser e906 (2)
Sennheiser e609 (3)
Sennheiser MD421 (x2)
Sennheiser MD420
Sennheiser E602-II
Sennheiser E604
Audix D6 (2)
Beyerdynamic M160 ribbon (3)
EV PL10
Heil PR22
Heil PR40
Kel Audio HM-1 (2)
Kel Audio HM-4
Naiant Audio custom omnis
Telefunken TD-7
Telefunken TD-4
Audio Technica drum mic set
Numerous vintage lo-fi microphones
Radial Firefly V2. tube DI
Radial PRODI (x2)
Radial PRODI Stereo
Radial J48 active DI
LR Baggs Para DI
Outboard
PREAMPS:
Chandler EMI TG2
API 3124 (4 channels)
Capi vp28 (4 channels)
Newcomb Pathfinder 1950s tube preamplifier
Stam SA73 (2 channel Neve 1073)
Sytek MPX-4A (4 channels Neotek)
Federal Tube Preamp/Limiter (1940s)
Seventh Circle Audio N72, A12, J99 (2)
Scully 280 germanium preamplifier (2 channels)
Ampex AG300 germanium line amplifiers (3 channels)
DYNAMICS:
Stam SA76 (1176 blue stripe)
Stam SA2A (LA2A) (2)
Stam SA4000 (SSL 4000 bus compressor) (2)
Stam SA76 ADG
Black Lion Audio Bluey
1176 blue stripe compressor (custom)
Dizengoff D864 (Federal AM-864 tube Vari-Mu)
Neve Portico 5043 Duo Comp/Limiter
JLM LA500 (3 channels, LA3A)
DBX 160x vintage compressor
DBX 160xt (2 channels)
Furman LC-2 red knob compressor/deesser
EQUALIZERS:
API 550b (2 channels)
API 560 (2 channels)
Kush Audio Electra (2 channels)
Neve 551 Inductor EQ (2 channels)
Empirical Labs Lil Freq
Terry Audio CEQ mastering EQ
EFFECTS:
Fulltone Tube Tape Echo
Moogerfooger mf-107 freqbox
Radial ProRMP re-amper
Little Labs STD (x2)
Teenage Engineering Tonic and Robot
Electrix Filter Factory
Multivox MDX5 analog echo/spring reverb
Soundworkshop vintage stereo spring reverb
Dizengoff Audio Type 120 Plate Reverb
ARIA analog delay (brownface)
Various stand-alone tape echoes, tube preamps, and effects
Approximately 60 guitar pedals of various vintages
Instruments
KEYS:
1936 Baldwin baby grand concert piano
Farfisa Mini Deluxe I Compact (v.3)
Wurlitzer Model 200a electric piano
Wurlitzer Model 700 tube electric piano
Rhodes 73 mkI electric piano
Hohner Pianet T electric Piano
Korg Synthe Bass (vintage analog bass synth)
Korg Minilogue
Critter and Guitari Pocket Piano
Hammond BV with percussion (same as B3)
Leslie 22H
Leslie 720
Nord Electro 73
Behringer Model D
Casio SK-1
Harmonium
Toy Piano
STRINGS:
Guild M-65 hollow body (1957)
Gibson J50 (1956)
Gibson ES125 (1950s)
Fender Jazzmaster (custom built with 1969 Gibson mini humbuckers)
Fender Jazzmaster (MIJ)
Fender Telecaster
Gretsch 5102 hollow body
Fender '69 RI thinline telecaster
Kay Lark hollow body electric (1950s)
Wishbass
Fender Jaguar Bass
Martin DXK2 acoustic
Pre-war parlor guitar (1930s)
GoldTone Paul Beard resonator guitar
Emmons push-pull pedal steel
70's Yamaha FG365S Acoustic
Misc. Banjo
Tacoma Mandolin
Epiphone F style Mandolin
AMPLIFIERS:
Supro Tremolectric
Ampeg V4B (vintage tube bass amp)
Ampeg 2×18" bass cab
Ampeg Portaflex B15 (1972)
Fender Bassman w/1×12 Jensen C12k (1970)
Garnet Banshee amplifier (1960)
Montgomery Ward tube amp (1950s)
Kustom 2×12 amplifier with Vibro-Trem (vintage)
Quilter Steelaire
Kalamazoo Reverb 12 (1960s)
Ampeg Reverberocket (early 1960s)
Allen gyrophonic rotating speaker cabinet
DRUMS:
Gretsch Brooklyn 5 piece drum kit
Gretsch Black Beauty snare (hand hammered)
6.5 x 14″ Steel Gretch Snare
Vintage Pearl Kit 20/12/16
15″ Zildjian K Light hi-hats
18″ Zildjian K Crash-Ride
22″ Zildjian K Light Ride
14″ Zildjian A Mastersound hi-hats
21″ Zildjian K custom dry ride
Or: How I learned to stop chasing popularity and (mostly) love my job When I was an assistant engineer at a prominent studio—back when those two things existed—I worked a short stint with a well-known rock producer. After a long first day that featured band...
read more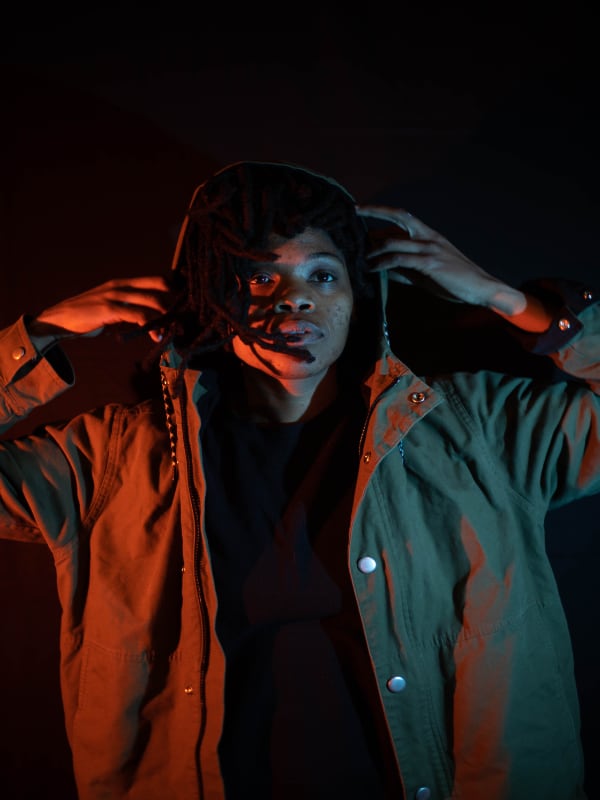 Schivona Rene
Engineer
Inspired by the vibrations themselves, you'll most likely find Schivona Rene in the recording studio or in front of house engineering for local musicians, singer songwriters, and hip hop producers, like Just Blaze… Read more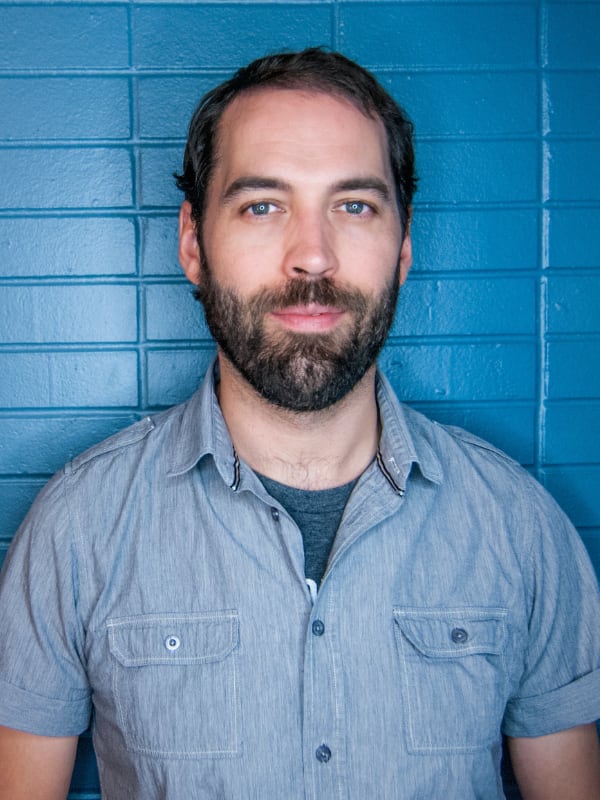 Gary Calhoun James
Engineer
Gary Calhoun James is a multi-instrumentalist, Composer, Producer, Engineer, and lover of adventurous music. With over 20 years of experience in Chicago and Austin..
Read more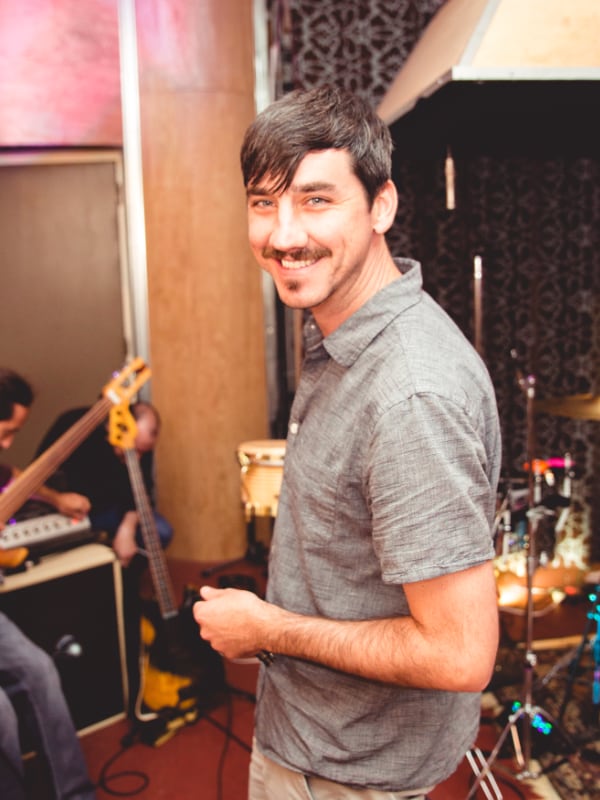 David Evans McDonald
Engineer
I've been recording bands for a little over 10 years, the past 3 primarily working out of King Electric Recording. I started out by playing guitar in, and maintain my affinity for, recording loud, noisy rock…Read more
RATES
Studio and Engineer: $75/hr
Mixing: $300/song
Mastering: $50/song